Toby Janes Biography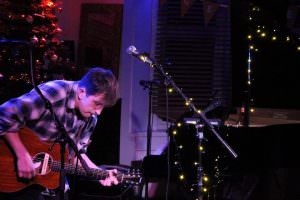 Toby started playing music age eight; his first instrument was the cornet. After developing a taste for performing, he went on to become the youngest member of the local brass band where he played regularly throughout Dorset and Hampshire. By the age of twelve, Toby had become a multi-instrumentalist, favouring guitar and drums and his primary instruments.
At college, Toby achieved a distinction for his National Diploma in Music and went on to study at degree level at the Falmouth University. Whilst at university, Toby maintained a heavy presence on the live scene across the South and West of England. Specifically interested in songwriting, Toby has extensive experience in live music and has a good understanding of technical equipment and sound. This includes rigging stages, guitar effects and pedal usage. His gigging experience is rich, performing at festivals, independent music venues and weddings across America and all over the United Kingdom.
His gigs range from intimate acoustic guitar performances to far larger rock concerts and constantly demonstrates his commitment to establishing charity music events and further gigs. He is disciplined and dedicated: currently working as a soloist, a session musician and a tutor. He has contributed his drumming talents to several band recordings and EPs, alongside producing original acoustic music. Toby has worked with children and adults of all ages, and can tailor his lessons around your specific interests and goals.